Article content
Two of my major interests converged fascinatingly at the recent RSA conference in San Francisco. One is information security. The event is named after three famous cryptographers (Rivest, Shamir and Adleman), and I've been a fan of them and this conference for a long time. How long? I taught Canada's first information security course on Oct. 14, 1977. The number of people who can challenge that claim gets smaller every year.
Article content
The second aspect is men's health, in this case, male psychology. While I have met female hackers, the overwhelming majority are male. So are cyberstalkers, romance scammers and other fraudsters. This conference helped me to understand why and how these guys turn to crime.
Article content
Adam Dodge is a Los Angeles-based attorney and founder of ENDTAB (Ending Tech-Enabled Abuse). He has written and presented extensively on cyberstalking, technology-enabled abuse, and non-consensual pornography, and co-authored a domestic violence advisory on the emerging threat of "deepfakes."
In his RSA presentation, Dodge discussed those handy Bluetooth tracking devices that you can attach to your keys or wallet. Apple's AirTags are the most famous, and Dodge says there have been many cases of misuse. He describes a common scenario: A man meets a woman in a bar, drops an AirTag into her purse, and "this poses an immediate physical risk because they can follow that person home. And even if they elect not to do that, they know where that person lives." He said he's even seen people "playing the long game, dropping an AirTag in a moving box so they know a person's new address."
Article content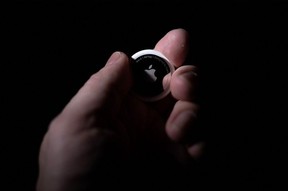 While Apple attempted to mitigate stalking risk with measures like playing a sound on your iPhone if a strange AirTag was nearby, co-presenter Eva Galperin, director of Cybersecurity for the Electronic Frontier Foundation, called these measures "sad and ineffectual." She noted that "for Christmas last year, Apple received a class action lawsuit over the use of AirTags for stalking."
In fairness, since the conference, Apple, Google, and other manufacturers have announced a plan to create a new industry standard for Bluetooth trackers to help combat stalking. However, this is probably at least a year from becoming a reality, so the danger persists. If you find a mysterious tracker, pull out the battery if you can, and notify law enforcement. They should take it seriously.
Then there are those evil scammers who impersonate a grandchild in need or try to become your romantic partner online, only to suddenly need substantial amounts of cash from you. In his RSA presentation, Ronnie Tokazowski, principal threat advisor at computer security firm Cofense, lifted the covers on their very dark world.
Article content
He explains that romance scammers often shower their intended victims with loving messages and gifts like chocolates and flowers. Then, a sudden need for money arises, and the victim often sends it. While most romance scams victims are female, Tokazowski says, "A grandfather jumped off a cliff to commit suicide, and after the family went in the home to understand why and what happened, they found out that he was part of a scam and lost upwards of $5 million." He adds that male scam victims "have an especially hard time because many feel like no one cares, no one wants to listen to them, and the societal stigmas play to this narrative."
Who are these scammers? Many come from Nigeria, where scamming is actually a business, almost a profession, providing fast, easy money with little risk of being caught. In a country where youth unemployment is over 50 per cent, Tokazowski said mothers encourage their sons to become scammers.
He shows photos of Nigerian rappers holding stacks of ill-gotten cash and says, "The deck is stacked against being legit … people steal to eat, or they die." He says they also dabble in black magic and JuJu, an African spiritual practice that can supposedly cause money to materialize. Tokazowski showed images of scammers washing themselves over graves, burning incense, and pouring ram's blood over their heads to become better scammers. There are also reports of ritual killings and selling of body parts.
Article content
A fascinating article by Dina Temple-Raston, published in The Recordcontains an interview with one of these scammers, who often call themselves "Yahoo Boys." He says he received a cut-and-paste kit with messages and a fake photo to send to prospective victims. ChatGPT is now being used to make scam emails even more effective.
"Another area of crime that we are seeing is sextortion, where scammers will pretend to be females and threaten to release compromising images that the user sent to them. We see mostly men being victims to this, with some taking their lives on these scams," said Tokazowski.
As always, a large dose of skepticism is your best defence against all forms of scamming and stalking. Remember, there are sneaky people in the bar and bad guys on the other side of the world pouring blood over their heads to gain power over you.
Dr. Tom Keenan is an award-winning journalist, public speaker, professor in the School of Architecture, Planning and Landscape at the University of Calgary, and author of the best-selling book, Technocreep: The Surrender of Privacy and the Capitalization of Intimacy.